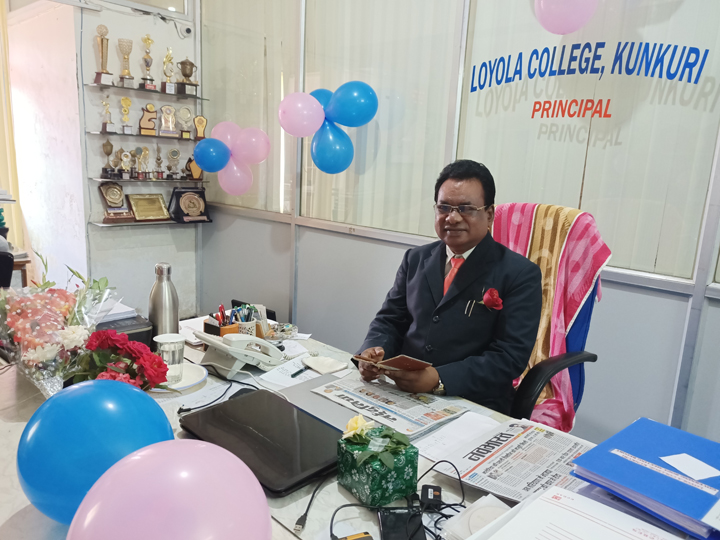 FROM PRINCIPAL'S DESK
Loyola College, a Catholic minority institution affiliated to Sant Gahira Guru University, Ambikapur, is located at Kunkuri, Dt. Jashpur, C.G., which is a semi-urban area. It was founded by Loyola Jesuit Society, Kunkuri in 2005. It is totally a self-financing College. Loyola College is run by the Society of Jesus which runs the leading education institutions of the world. The motto of the College is 'Excellence and Transformation'. Excellence means best academic result and academic activities; transformation means being new person with good character and leadership which changes the society.

Our aim is to make this College a 'College with Difference'. Laboratories and other facilities of the College is one of the best in India as NAAC team declared in 2015. We have Automated library. We have good collaboration and networking with different national and international bodies of educational institutions, like All India Association of Christian Higher Education (AIACHE), International Association of Jesuit Universities (IAJU), Xavier Board for Higher Education (Xavier Board). We have almost MOU signed with the Indian Government for Skill Develoment programme.


We have MOU signed with Holy Cross Women's College, Ambikapur, C.G., St. Thomas College, Bhillai, C.G, St. Xavier's College, Ranchi, Jharkhand, JMJ College for Women, Tenali, A.P., St. Vincent Palloti College, Raipur, C.G. and St. Aloysius College, Jabalpur, M.P.. The College has green campus with coconut, mango, Guava and Mahogany gardens. Also the College has Botanical and Herbal gardens. Rain water is harvested in two ponds. Coaching classes for PSC and IAS competition are held by Raipur based 'Shikhar' Coaching Centre. Last year result (2019-20) was hundred percent and we expect same result in 2020-21.

The College stands for all-round development of the students. This is the reason it has so many co-curricular activities like, remedial classes, tutorial classes, Science exhibition, quiz competition, International workshops, National Seminars/webinars, Collaborative study, group study, peer group study and mentoring sessions; extra- curricular activities like, sports, cultural programme, skit and street play competition, Speech competition, extempore competition, talent hunt, etc. The Loyola College has very valuable Extension programme as: Inter-religious celebration of all Major festivals of all religion together with citizens, Computer department is bringing Computer literacy to neighbouring college and schools. NSS is doing marvelous work. NSS students are fetching so many national and state level prizes for different level of competitions. During Corona lockdown NSS students under the supervision of SDMs of Kunkuri and Farsabahar Blocks helped the Government to maintain discipline. They promoted vaccination, mask use, hand wash and distancing. NSS has adopted a village called Nawatoli and teaching them to be hygienic free, literate, etc., There is tree plantation in the village every year. Department of Botany is taking care of a herbal garden and Botanical Garden.

I whole heartedly thank all the teaching and nonteaching staff members for their laborious and innovative activities in the College. I congratulate students for their success in various fields.

Dr. Fr. Oscar S. Tirkey, S.J.
Principal